OUR LIBRARY REFLECTS THE EXCELLENCE OF OUR COMMUNITY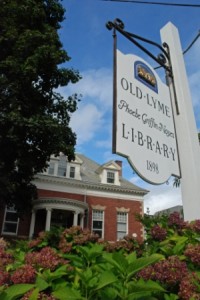 The Library is a private library association that serves as the public library for the town of Old Lyme. Our building is an historic landmark. It is a gathering  place for all our patrons. We provide traditional reading materials and educational resources, as well as the latest in popular books and movies. We stay current with technology trends both in access and formats such as downloadable audio books and ebooks.
Our goals are to meet the changing needs of our community, support education at every age, and be a community hub where discussions, lectures, movies, music, meetings, story times and many other activities bring us together to share ideas, be enlightened and entertained.
Visit us soon. Learn what's new in the library or sign up for our online newsletter to read about upcoming events for you, your family and neighbors.
Mission and Vision Statements
The OLPGN Library mission is to inspire lifelong learning and discovery in a welcoming place with exceptional resources, programs and services.
The OLPGN Library vision is to be the community's vibrant hub for engagement, discovery and creativity.
Save