Contemporary Classics with Marsha Bansavage takes place virtually usually on the first Monday of the month.
Multiple copies of the selected book are available please call the library at 860-434-1684 to reserve a copy.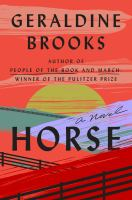 Tuesday, September 5
Horse by Geraldine Brooks
Image credit: Syndetics
"A discarded painting in a junk pile, a skeleton in an attic, and the greatest racehorse in American history: from these strands, a Pulitzer Prize winner braids a sweeping story of spirit, obsession, and injustice across American history Kentucky, 1850. Jarrett, an enslaved groom, and a bay foal forge a bond of understanding that will carry the horse to record-setting victories across the South. As the nation erupts in civil war, an itinerant young artist who has made his name painting the racehorse takes up arms for the Union. On a perilous night, he reunites with the stallion and his groom, very far from the glamor of any racetrack. New York City, 1954. Martha Jackson, a gallery owner celebrated for taking risks on edgy contemporary painters, becomes obsessed with a 19th equestrian oil painting of mysterious provenance. Washington, DC, 2019. Jess, a Smithsonian scientist from Australia, and Theo, a Nigerian-American art historian, find themselves unexpectedly drawn to one another through their shared interest in the horse – one studying the stallion's bones for clues to his power and endurance, the other uncovering the lost history of the unsung Black horsemen who were critical to his racing success. Based on the remarkable true story of the record-breaking thoroughbred, Lexington, who became America's greatest stud sire, Horse is a gripping, multi-layered reckoning with the legacy of enslavement and racism in America."
(Syndetics)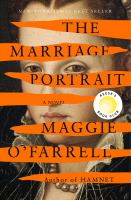 Monday, October 2
The Marriage Portrait by Maggie O'Farrell
Image credit: Syndetics
"Florence, the 1550s. Lucrezia, third daughter of the grand duke, is comfortable with her obscure place in the palazzo: free to wonder at its treasures, observe its clandestine workings, and devote herself to her own artistic pursuits. But when her older sister dies on the eve of her wedding to the ruler of Ferrara, Modena and Reggio, Lucrezia is thrust unwittingly into the limelight: the duke is quick to request her hand in marriage, and her father just as quick to accept on her behalf.
Having barely left girlhood behind, Lucrezia must now enter an unfamiliar court whose customs are opaque and where her arrival is not universally welcomed. Perhaps most mystifying of all is her new husband himself, Alfonso. Is he the playful sophisticate he appeared to be before their wedding, the aesthete happiest in the company of artists and musicians, or the ruthless politician before whom even his formidable sisters seem to tremble?"
(Amazon.com)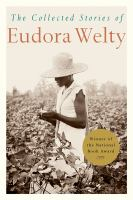 Monday, November 6
The Collected Stories of Eudora Welty by Eudora Welty
Image credit: Syndetics
"Eudora Welty wrote novels, novellas, and reviews over the course of her long career, but the heart and soul of her literary vision lay with the short story, and her National Book Award–winning Collected Stories confirmed her as a master of short fiction.
The forty-one pieces collected in this new edition, written over a period of three decades, showcase Welty's incredible dexterity as a writer. Her style seamlessly shifts from the comic to the tragic, from realistic portraits to surrealistic ones, as she deftly moves between folklore and myth, race and history, family and farce, and the Mississippi landscape she knew so well, her wry wit and keen sense of observation always present on the page."
(Amazon.com)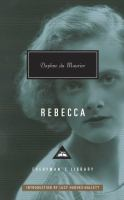 Monday, December 4
Rebecca by Daphne de Maurier
Image credit: Syndetics
"The unassuming young heroine of Rebecca finds her life changed overnight when she meets Maxim de Winter, a handsome and wealthy widower whose sudden proposal of marriage takes her by surprise. Rescuing her from an overbearing employer, de Winter whisks her off to Manderley, his isolated estate on the windswept Cornish coast–but there things take a chilling turn. Max seems haunted by the memory of his glamorous first wife, Rebecca, whose legacy is lovingly tended by the sinister housekeeper, Mrs. Danvers. As the second Mrs. de Winter finds herself increasingly burdened by the shadow of her mysterious predecessor, she becomes determined to uncover the dark secrets that threaten her happiness, no matter the cost."
(Syndetics)