Phoebe's Morning book chat takes place on the second Thursday of every month at 11:00am in the Community Room.
Multiple copies of the selected book are available please call the library (860-434-1684) to reserve a copy.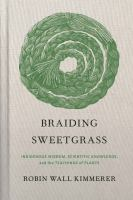 Thursday, July 13
Braiding Sweetgrass : indigenous wisdom, scientific knowledge and the teachings of plants by Robin Wall Kimmerer
Image credit: Syndetics
"An inspired weaving of indigenous knowledge, plant science, and personal narrative from a distinguished professor of science and a Native American whose previous book, Gathering Moss, was awarded the John Burroughs Medal for outstanding nature writing. As a botanist and professor of plant ecology, Robin Wall Kimmerer has spent a career learning how to ask questions of nature using the tools of science. As a Potawatomi woman, she learned from elders, family, and history that the Potawatomi, as well as a majority of other cultures indigenous to this land, consider plants and animals to be our oldest teachers. In Braiding Sweetgrass, Kimmerer brings these two lenses of knowing together to reveal what it means to see humans as "the younger brothers of creation." As she explores these themes she circles toward a central argument: the awakening of a wider ecological consciousness requires the acknowledgement and celebration of our reciprocal relationship with the world. Once we begin to listen for the languages of other beings, we can begin to understand the innumerable life-giving gifts the world provides us and learn to offer our thanks, our care, and our own gifts in return."
(Syndetics)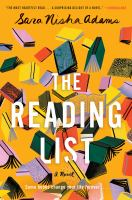 Thursday, August 10
The Reading List by Sara Nisha Adams
Image credit: Syndetics
"Working at the local library, Aleisha reads every book on a secret list she found, which transports her from the painful realities she's facing at home, and decides to pass the list on to a lonely widower desperate to connect with his bookworm granddaughter.
Mukesh lives a quiet life in the London Borough of Ealing after losing his beloved wife. He worries about his granddaughter, Priya, who hides in her room reading while he spends his evenings watching nature documentaries. Aleisha is a bright teenager working at the local library for the summer. She discovers a crumpled-up piece of paper in the back of To Kill a Mockingbird; it is a list of novels that she has never heard of, and she impulsively decides to read every book on the list. When Mukesh arrives at the library seeking to forge a connection with his bookworm granddaughter, Aleisha passes along the reading list. The shared books create a connection between two lonely souls, as fiction helps them escape their grief and everyday troubles and find joy again." — adapted from jacket
(Syndetics)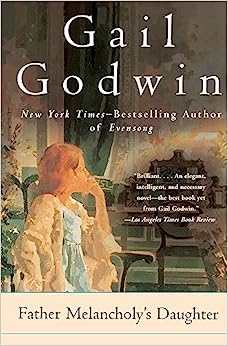 Thursday, September 14
Father Melancholy's Daughter by Gail Godwin
Image credit: Amazon
"The novels of Gail Godwin are contemporary classics–evocative, powerfully affecting, beautifully crafted fiction alive with endearing, unforgettable characters. Her critically acclaimed work has placed her among the ranks of Eudora Welty, Pat Conroy, and Carson McCullers, firmly establishing Godwin as a Southern literary novelist for the ages.
Father Melancholy's Daughter, is widely recognized as one of the author's most poignant and accomplished novels — a bittersweet and ultimately transcendent story of a young girl's devotion to her father, the rector of a small Virginia church, and of the hope, dreams, and love that sustain them both in the wake of the betrayal and tragedy that diminished their family."
(Syndetics)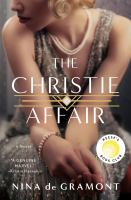 Thursday, October 12
The Christie Affair by Nina de Gramont
Image credit: Syndetics
"Nina de Gramont's The Christie Affair is a beguiling novel of star-crossed lovers, heartbreak, revenge, and murder-and a brilliant re-imagination of one of the most talked-about unsolved mysteries of the twentieth century. Every story has its secrets. Every mystery has its motives. "A long time ago, in another country, I nearly killed a woman. It's a particular feeling, the urge to murder. It takes over your body so completely, it's like a divine force, grabbing hold of your will, your limbs, your psyche. There's a joy to it. In retrospect, it's frightening, but I daresay in the moment it feels sweet. The way justice feels sweet." The greatest mystery wasn't Agatha Christie's disappearance in those eleven infamous days, it's what she discovered. London, 1925: In a world of townhomes and tennis matches, socialites and shooting parties, Miss Nan O'Dea became Archie Christie's mistress, luring him away from his devoted and well-known wife, Agatha Christie. The question is, why? Why destroy another woman's marriage, why hatch a plot years in the making, and why murder? How was Nan O'Dea so intricately tied to those eleven mysterious days that Agatha Christie went missing?"
(Syndetics)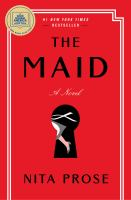 Thursday, November 9
The Maid by Nita Prose
Image credit: Syndetics
"A charmingly eccentric hotel maid discovers a guest murdered in his bed, turning her once orderly world upside down–and inspiring a motley crew of unexpected allies to band together to solve the mystery–in this utterly original debut. Molly Dunn is not like everyone else. She struggles with social skills and interprets people literally. Her gran used to interpret the world for her, codifying it into simple rules that Molly could live by. Since Gran died a few months ago, twenty-five-year-old Molly has had to navigate life's complexities all by herself. No matter–she throws herself with gusto into her work as a hotel maid. Her unique character, along with her obsessive love of cleaning and proper etiquette, make her an ideal fit for the job. She delights in donning her crisp uniform each morning, stocking her cart with miniature soaps and bottles, and returning guest rooms at the Regency Grand Hotel to a state of perfection. But Molly's orderly life is turned on its head the day she enters the suite of the infamous and wealthy Charles Black, only to find it in a state of disarray and Mr. Black himself very dead in his bed. Before she knows what's happening, Molly's odd demeanor has the police targeting her as their lead suspect and she finds herself in a web of subtext and nuance she has no idea how to untangle. Fortunately for Molly, a medley of friends she didn't realize she had refuses to let her be charged with murder–but will they be able to discover the real killer before it's too late? A Clue-like, locked-room mystery and a heartwarming journey of the spirit."
(Syndetics)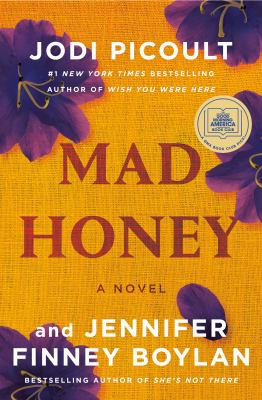 Thursday, December 14
Mad Honey by Jodi Picoult and Jennifer Finney Boylan
Image credit: Syndetics
"Olivia McAfee knows what it feels like to start over. Her picture-perfect life–living in Boston, married to a brilliant cardiothoracic surgeon, raising their beautiful son, Asher–was upended when her husband revealed a darker side. She never imagined that she would end up back in her sleepy New Hampshire hometown, living in the house she grew up in and taking over her father's beekeeping business. Lily Campanello is familiar with do-overs, too. When she and her mom relocate to Adams, New Hampshire, for her final year of high school, they both hope it will be a fresh start. And for just a short while, these new beginnings are exactly what Olivia and Lily need. Their paths cross when Asher falls for the new girl in school, and Lily can't help but fall for him, too. With Ash, she feels happy for the first time. Yet she wonders if she can trust him completely. . . . Then one day, Olivia receives a phone call: Lily is dead, and Asher is being questioned by the police. Olivia is adamant that her son is innocent. But she would be lying if she didn't acknowledge the flashes of his father's temper in Ash, and as the case against him unfolds, she realizes he's hidden more than he's shared with her. Mad Honey is a riveting novel of suspense, an unforgettable love story, and a moving and powerful exploration of the secrets we keep and the risks we take in order to become ourselves."
(Syndetics)