On Tuesday, September 12, the Library Board of Trustees and Staff gathered to celebrate the Library's 125th Anniversary with the unveiling of a bronze statue of a griffin, a mythical half-eagle, half-lion creature. The nearly 200-pound bronze statue, created by sculptor Michael McLaughlin, stands by the library's entrance with an open book at its paws.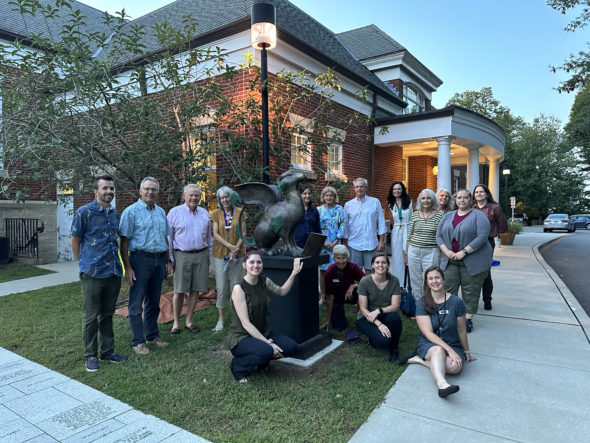 While the griffin has often been portrayed as a fierce magical creature, we hope our griffin is slightly softer and more accessible than most. It is still a griffin, with a nod to the merits of a fierce curiosity, but we hope visitors will find her friendly and inviting and that even the youngest visitor will be inspired to give her a pat.
Michael McLaughlin, the sculptor, resides in northwestern Connecticut. He received his foundation in classical art while studying at Lyme Academy of Fine Arts. Upon completing his studies at the Academy, Michael went on to participate in an "old school" style apprenticeship in the studio of sculptor, Juan Andreu. Juan later inspired Michael to travel to Thailand, Korea and Japan to further continue his course of study. He is the recipient of numerous awards and has won commissions from municipalities, galleries and private collectors from across the country.
The Library's griffin was made possible thanks to private financial support from the Library's Board of Trustees and others.